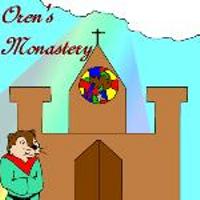 Group: Moonbase
Creator: Oren Otter
Current Artist: Oren Otter
Style: Colored ink
Premise: The star of the Changing Workplace has changed his vocation. He is more spiritually-minded, but that doesn't make things any less weird.
Setting: Otter Crossing
Major Characters
Edit
Oren Otter: The main character. He first becomes a priest, and later the founder of an online church, the Christian Furry Fellowship.
Abbot Ignacious Babbit: The head of the monastery, Abbot Babbit became the victim of a curse which turned him into a baby rabbit, by cause of his own pride.
Other Characters
Edit
Brother Kadeusus: a snake who gained a lot of confidence thanks to Oren's insight
Sister Gertie: a well-meaning elderly nun whose famous brownies severely test the monks' sense of self-denial
Brother Chu: a converted Buddhist who does most of the cooking at the monastery
Brother Tory: the organist who is under a vow of silence and suffers from Tourette's syndrome
Brother Fuzz: a Nazirite who has been keeping his vow for decades, and whose face has not been seen for nearly as long
Pat: Oren's brother who was never properly born, but who has managed to offer advice along the way
Ad blocker interference detected!
Wikia is a free-to-use site that makes money from advertising. We have a modified experience for viewers using ad blockers

Wikia is not accessible if you've made further modifications. Remove the custom ad blocker rule(s) and the page will load as expected.